Gottacon 2010 - February 5-7, 2010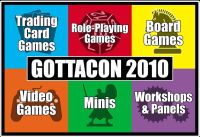 Gottacon 2010 is coming up fast in Victoria, BC, Canada. Hosted in the Garden City, This is the second annual Gottacon, where gamers from all walks of life come to play various types of games, including board, video, card, RPG, etc. More variety then you can shake a +5 bastard sword (which are sold) at.

The convention is divided into slots, and if you participate in every event you can, that means you can hit a total of 10 different events, with breaks between to check out the vendors, grab some food, and maybe even catch a cat nap.

There are a variety of 'learn how to play' events, beginner's tournaments, draft and sealed events - all of which do not require you to bring your own deck or army to the table, and many if not all of the events include prizes.

Advance purchase ticket sales are now closed, but don't fret! There are plenty of tickets available for sale at the door. I attended the last Gottacon and was quite happy with my experience there. Click here for a recap of my experience there. I will be attending again this year as a volunteer, if you make it out, just look for me at the tournament reporting table. I will again be taking pictures and perhaps video if there are some willing people at this years event. I personally am looking forward to this years events and hope to see you there.

If you would like to take a look at the program, you can view it in pdf format here.

PS: If you drop by to see me, say you are from RPGamers.net so I know you where you came from, as I am a member of other sites.
1 Comment
Sorry, comments are closed because article is over 90 days old.