Valve games coming to Mac, officially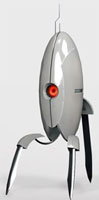 I'll keep this one short.

Like I posted just a few days ago, based on the GameInformer article, Portal 2 is coming to PC, Xbox 360 and Mac. Some days before that I posted about the beta testing of the Steam client, which has a new gui, but also dumps the Internet Explorer backend it has been hooked on since the beginning. Valve guys were also teasing us with various pictures that put well known Valve properties in Mac-like situations. And now, since Steam is no longer tied to Windows and IE, Valve has finally officially announced that it's bringing the Steam platform and the Source game engine to Mac. Full news article at the link, but I'll sum it up here for your convenience.

So, all these older Source games, and the Steam platform will be available for Mac in April. That's pretty soon. I don't know anyone who has a Mac, and quite frankly I don't know anything about them. Can you even play games on them? I guess you can. If Valve says so, I must believe it. If Gabe Newell says so, who am I to disagree. Valve considers Mac to be "Tier-1" platform for them, along with PC and Xbox 360. Total zinger at the PS3 camp right there! BOOM!

Additionally, they are introducing a feature called Steam Play. Basically it's a fancy term for your digital copy of a game carrying over from PC to Mac, or vice verca. You buy just one copy, but can play it on both platforms, and with the help of keeping your save games in the Steam Cloud, you can continue the same game from where you left it on the other platform. Apparently this also extends to multiplayer things, so both Mac and PC guys will be able to play against each other in Team Fortress. None of this Steam Play stuff works in Xbox 360, so the console guys will have to continue to play with themselves, err, I mean amongst themselves?

So look forward to it, if you own a Mac.
1 Comment
Sorry, comments are closed because article is over 90 days old.