Final Fantasy XIII now available to the masses, but should you rush to get it?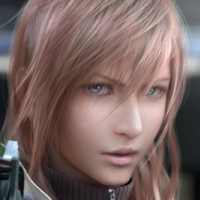 The day has finally come, we have counted the days. Final Fantasy XIII is now out! Quick, run to your nearest video game retailer and pick up a copy. Wait! Have you really heard what this game brings to the table? Let me share my first few hours of FFXIII experience with you.

Let me start with some basic information. For starters, I am playing the Xbox 360 version of the game, however I don't believe the actual game content differs between the two consoles. Also, I have only clocked a few hours of actual gameplay, so this is kind of a first impressions rant... if you will call it that.

My version of the game came on multiple discs, and some of the content is compressed so I expected some longer load times while playing. I haven't played the PS3 version, but I can say that I was fairly pleased with the game in this aspect. The load screens were brief and mostly just when changing maps or scenes. Battles flows smoothly and the videos present themselves with shine. That's another plus point: the game definitely struts its stuff. The opening video was great and it dives you right into the heat of battle.

But what is this? Instead of gaining experience and money for fighting, I get an arcade-style score and a rating out of 5 stars. This rating seems to be solely based on how fast I complete the battle like its a race, and the rating has some influence on item drops after the fight. Oh, and I forgot to mention I only control the leader of the party. You can have other party members in the fight with you, but they are computer controlled and you really don't have any say in what they do. Oh, and there are some rules you need to be aware of as well: the main character can't fall in battle. Your allies can die and you can revive them, but if you are down its game over, even if the rest of the team is still kickin'.

Alright, so I have to stay alive. I guess that adds some increased challenge to the game. Don't worry though, they compensated for that by adding in the auto battle command. Choosing this selects optimal attack options based on the situation. You do have to select it each time it's your turn in battle, so the fight is not entirely automatic. It appears to just be for attacking skills, not healing or anything. Oh yeah, healing has been made a bit easier too, probably to ensure you can select it quickly enough to not lose some of that score! Basic items like potions now heal the entire party, you no longer need to select a target. Also, your party is healed entirely after every battle so no more preparation needed between fighting.

You can save your game at one of many save stations you encounter. There appears to be many of these scattered around and I had no problem finding them. These stations also act like shop hubs, allowing you to login to different shop types in a computer-like interface. You can gain access to more shops as the game progresses and you collect chips with the shop information. Yes that's right, no need to go into town for the latest equipment anymore. Good thing too, since there are no towns to randomly visit during your journey.

So if I don't gain experience, how do I level up my characters? Well, actually characters don't have levels! I am not far enough into the game to have unlocked the method for upgrading skills and statistics, but from the status screen I can access, each character has two stats: attack and magic. Also from what I have read about the upgrade system, it caps off how much you can progress your characters based on your game progress. No more spending hours leveling those troops! The lack of ability to customize your characters, at least in the beginning of the game is certainly a disappointment to me.

The story can be a bit confusing to follow unless you take advantage of the datalog blurbs that get sent to you as you progress. As you advance through the game, you are sent story updates via the menu system that you can read for some further in-depth information. Following these updates is key to understanding what some of what the chracters are talking about during the story progression. Its like a movie and a book, with some random button-mashing breaks between scenes!

I should also mention that you end up controlling a few different parties at the start; the first you encounter lead by Lightning, our ex-soldier heroine. Then the story jumps over to a team lead by Snow, our resistance hero who likes to punch and jab his way to victory. Oh, and don't forget Hope, the boy out for revenge, with his over-energetic sidekick Vanille keeping spirits up. Even before these teams meet, you will notice your item inventory is shared as you switch. How convenient!

Too lazy to read all of that? I will summarize my comments with the game at this point;

Pros:
+ good graphics, looks great
+ fast/infrequent loading screens
+ easy to learn and control
+ automatically healed after battles
+ voice acting is entertaining

Cons:
- no experience or money from battles, arcade style feel
- battle ratings based mostly on speed rather then tactics / playing smart
- only control a single party member, and that character must survive or game over
- lack of ability to tell allies what you want them to do, or even influence their actions
- challenge lacking greatly with auto battle and multiple target healing with basic items like potions
- fighting is pointless at this point in the game, nothing to gain (other then mediocre enemy spoils)
- no towns to visit/explore, shops available via save stations
- lack of character development options and statistics, at least up to this point

Now of course as I said, I am only a few hours in, so the game has some potential to improve, and I welcome your comments as you progress through this game. It just doesn't feel like a Final Fantasy to me anymore, too many of the standard elements are missing. I have no doubts that the game will do well and sell millions of copies, however at this point it has far from lived up to my hopes and expectations of Final Fantasy titles. Its hard to say this, as I have been a fan of most of the games in the series. Yeah, I'm a bit of a SquareEnix fanboy... so what? Unfortunately, for this one I would say to rent this game first, or borrow it from a sucker who bought it friend to see if you can get into it. Purchase at your own risk!
9 Comments
Sorry, comments are closed because article is over 90 days old.